Mobile Commerce
We all are familiar with the term E-commerce. E-commerce or Electronic Commerce involves the buying and selling of goods and transfer of funds electronically, specifically via the internet.
Now coming to the topic at hand, M- Commerce can be said to be a sub-speciality of e-commerce wherein the transactions are specifically carried out via handheld devices like smartphones, iPads and tablets.
This is a more recent phenomenon but in the past couple of years M-Commerce has taken the world of transactions by storm. It is predicted that by the end of 2021, M-commerce sales are set to cross $3.56 trillion – that is 22.3% more than 2020.
So, WHAT IS THE BIG DEAL ABOUT M-COMMERCE?
Well, the COVID-19 pandemic has ensured that if your business does not have an online profile, then practically surviving the competition is going to be an uphill task. So, by now almost all businesses have a website or an online store and even your very own app if possible. But to cater to the growing number of customers, just having an app or a website or an online store is not enough. We need to optimise the customer-experience during this journey so that they keep coming back.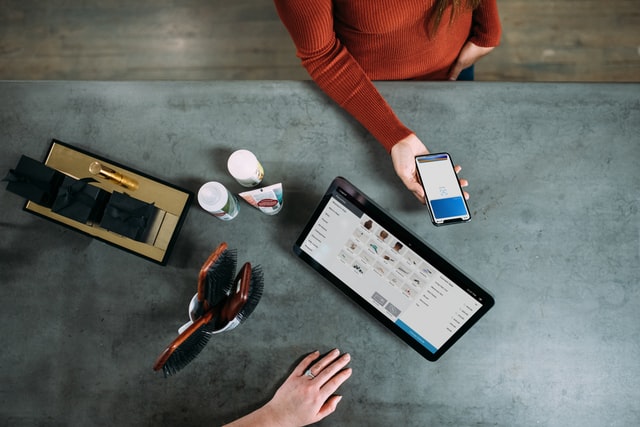 We may be unaware that even if we find things to buy on a desktop or laptop, this decision is greatly influence by us looking up for additional information, reviews, comparing with similar products on our mobiles or iPads or tablets.
M-commerce is not just an evolution of e-commerce. It is an important milestone in the process, one that is becoming increasingly indispensable in our world dominated by smartphones and tablets.
M-commerce has not only emerged as a winner in the field of commerce and business but it has also induced the growth of associated services like:
Mobile ticket booking.
Mobile stock trading.
Mobile apps for money transfers, in-app purchases.
Mobile banking.
Mobile marketing.
Location-based services.
Digital content purchases through mobile.
Mobile money transfers.
And with the integration of newer advances in technologies like Augmented Reality, Virtual reality, 5G, chatbots, and artificial intelligence, the ways in which M-commerce can be exploited is boundless.
Did you know that by 2022, it is estimated that m-commerce sales will constitute more than 60% of all e-commerce sales and with the pandemic hitting all of us hard, m-commerce is going to be in demand more than ever before. Some good examples of M-commerce applications are Amazon, Uber, Ajio, Starbucks, Muffin Break, Subway and more.
How can your business benefit from m-commerce?
All said and done, we can safely believe that m-commerce is very popular among business holders and customers alike and it has huge potential to grow into the next big thing in e-commerce.
Now let us take a quick glance at how you can expect your business to benefit by embracing m-commerce.
Customer Compliance: With so many businesses shutting down due to the pandemic, competition between businesses have reached a new level, and we are seeing companies and enterprises resorting to novel ways to edge out the competition. With m-commerce apps, customers access their preferred online store and shop at any time, from anywhere as long as they have an internet connection. This makes the experience fast and less cumbersome, especially because today we all are restricted to our homes. And happy customers equal better reviews and in turn more sales.
Better Reach: Unlike with a physical store, m-commerce applications help customers connect with their brands all over the world right from the palm of their hand, increasing the brand's credibility, loyalty and customer-traffic.
Marketing: Having a responsive m-commerce app can act as an omni-present channel for marketing, letting businesses directly contact customers, giving information on new products and services and deals that you may have. From sending custom notifications to creating a newsfeed or giving your customers a sneak-peak, there are many ways in which you can create a buzz and spike customer curiosity around your product and target the right audience. You can even have customers share their experiences or the product review onto their social media platform to better cater to your clients.
Positive Customer Experience: This depends on your m-commerce application. An attractive, adaptive m-commerce application gives your customers a positive shopping experience that helps in building your brand value.
Secure and Fast Transactions: Paying for products and services through mobile commerce application is both fast and secure, making sales quicker and less of a hassle. While logging onto websites or logging in from a desktop or a laptop needs a stable internet connection, shopping on your mobile can work pretty well even with mobile data.
Assisting In-store Sales: It is a known fact that customers look up for product information on their mobiles even while they are in-store, shopping. Having a m-commerce app helps in augmenting in-store and online sales.
Significantly Lesser Costs: With a m-commerce app, infrastructure costs, manpower and other expenditures are significantly reduced as you do not need to maintain a full-fledged store. Also, with such apps handling the marketing aspect of your business as well, your marketing expenses are also reduced, freeing up resources.
Important Data Insights about your Business: There are specific data analytics tools available now to gather and analyse customer information that help in creating superior strategies to target your customers better and drive sales. This also gives insights into customer behaviour while they are on your app and the way they use your app helping in providing better and relevant product information and deals to your customer and giving your customer a personalised shopping experience.
Customer Re-targeting: Armed with these crucial data insights, you can re-target and re-market to the customers who do not complete the sales funnel. So, having a m-commerce app not just attracts new customers but also help in retaining the existing ones and re-selling to potential customers.
Will m-commerce go full-fledged?
As mobile use advances, more and more population will resort to accessing all the information they require on their mobiles. And with the growing number of mobile users, the number of people who turn to mobile to browse, research, look up features, deals, reviews and competition prices, is also going to increase proportionately. Add to this the immersive customer experience achieved by AR, VR and 5G integration and you would not be wrong to say that M-commerce is here to stay.
Summing up, customers have already welcomed the idea of shopping on mobile, so if your business does not support it, you are most probably missing out on a huge chunk of potential customers and it is high time that enterprises start jumping on the M-commerce bandwagon.
Are you on the look-out for a team of highly skilled experts who can develop a m-commerce app that aligns with your business goals and gives you quality results? Well, then look no further. Reach out to us. We have decades of experience in the field and have supported many businesses in becoming mobile-first efficiently.